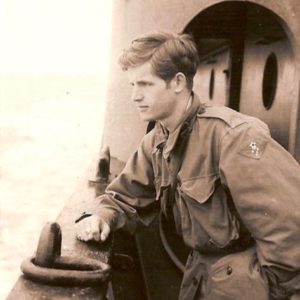 On May 1, 2017, John "Jack" Deddens passed away. Jack is the grandfather of Drew and Cole Deddens and would have loved the fact that people will contribute to the Drew and Cole Deddens Foundation in his memory. Jack believed all life is precious, especially that of the born and unborn child.
Please help us help children, particularly those with illnesses, and give in memory of Jack by clicking here.
Jack's obituary
Deddens, John "Jack" F., Age 90 passed away on Monday, May 1.   He was born on August 7, 1926 in Louisville, Kentucky. He was preceded in death by his wife Eileen. She was the love of his life and they were married for 57 years.   Also, preceding him in death were his parents, Carl and Jane Deddens, In-Laws Rudy and Gladys Clark, Sister-In-Law, Darlyne Clark, Twin Grandchildren, Drew and Cole Deddens and one Great Grandchild, Taylor Deddens.
He is survived by his five children. Carl and Margaret Deddens of Maplewood, New Jersey, Bill and Lisa Deddens of Jupiter, Florida, Karen ( AKA: Kuna-Bell) and Kevin Crotty of Springboro, Ohio, Michael and Angel Deddens of Athens, Ohio and Mark and Tammy Deddens of Centerville, Ohio. Jack was blessed with 21 Grandchildren and 6 great-grandchildren (with one on the way)! Brother James Deddens and Sister Joyce Deddens who both reside in Virginia. Sister-In-Law Carolyn and Henry Kirkwood of Arizona. Numerous nieces and nephews.
A passion for God, country, and family
Jack grew up in Louisville, Kentucky. From there he enlisted in the Army Air Corp and went on to serve in WWII as a navigator on a B25. He was a very proud veteran and several years ago his oldest grandchild, Colin Crotty, took him on the Honor Flight to Washington D.C. It was one of his favorite memories from his later years.
Jack had a passion for his family. He and Eileen did everything together. Spent much of their time with their children and grandchildren. He wrote many short stories for his grandchildren and would often then go to the grandkids school as a featured guest and would read his stories to the classrooms.
He was also very well known for taking the grandkids on Adventures. He would take them around town to landmarks or special places of his that he wanted them to know about and then out to eat at Bob Evans.
Another passion Jack had was archeology. He spent many hours building an extensive collection of American Indian Artifacts. He has donated some of his findings to Boonshoft Museum and Sun Watch Indian Village.
A faithful servant
Jack had a very strong devotion to his Catholic Faith. He was very involved at St. Albert the Great and Right to Life. You always knew his car by his Right to Life Sticker. He has given countless hours to the organization and had a deep hope to one day see this end.
The House of Bread was another place you could often find Jack. He enjoyed helping the less fortunate and help feed the poor.
An impactful man
What an impact Jack had on every life he touched. There isn't a person that he has met that doesn't have a great story about him. He was a GREAT Man and will be missed dearly. There will be a short visitation in the back of church before mass.
A Mass of Christian Burial will be held at noon at St. Albert the Great Catholic Church 3033 Far Hills Ave., Kettering, Ohio 45429 on Monday May 8, 2017.   Interment following at Calvary Cemetery.